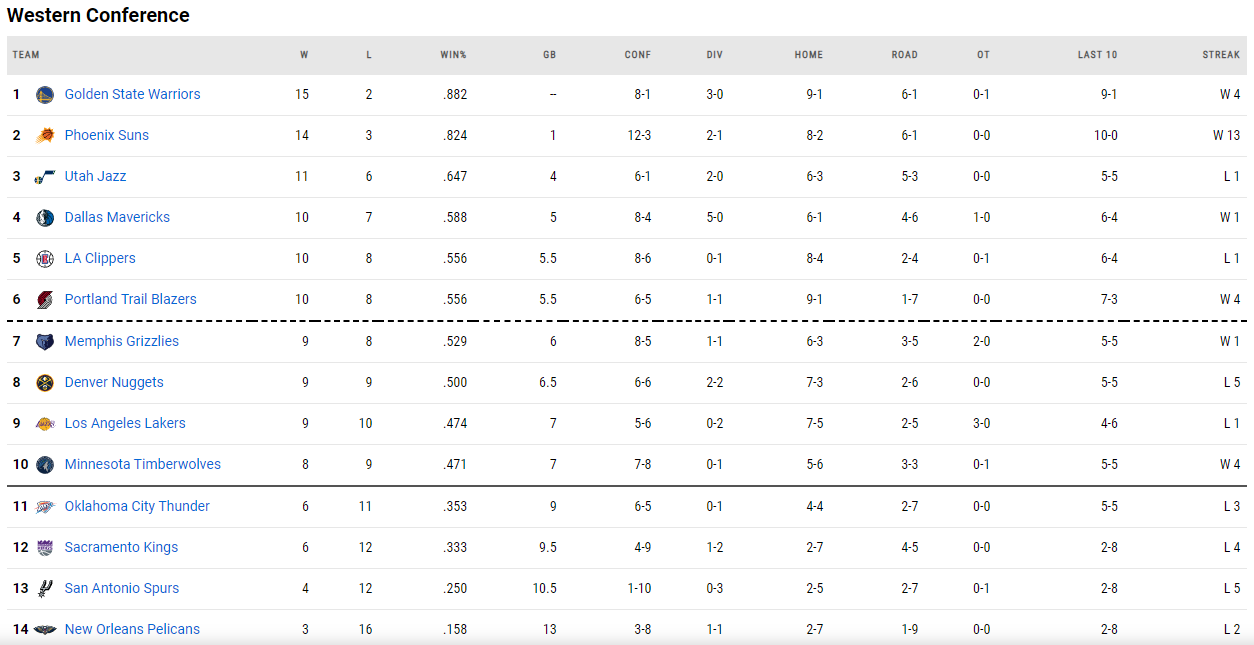 source
I am looking at the teams in the West, it may look weird to see what team is on top. Assuming LeBron is still playing for the rest of the season, this is unheard of for the Lakers to be where they are. Timberwolves coach got fired, Lakers are not too far from them. Hard to imagine the season just starts. The minute this year changes the game will change.
I am a little surprised to see the Warriors holding the top stop so quick. You can tell they are building chemistry. They are doing what a team should do to keep up with the Suns. By next year Klay could be back in a limited role. It may be too early to say Warriors to the Finals, but they know how to play high caliber basketball so it is here to be taken.
As for the Lakers, it is a Super Star team waiting for LeBron to do everything. When you pull so much baggage it is fair to say your engagement carries a lot. As for AD I do not know what he is doing. Westbrook is another story with no end insight. This experiment by the Lakers to get Westbrook could backfired on them the minute they missed the playoffs. Altogether losing to the first, second or third round.
Clearly it will be the moment of truth, LBJ will retire very soon. Right now there are 60 games to play. Any solid run can squash everything. At the same time sprinting now can jeopardize the playoffs as well. It is 50/50 to say for the Lakers not knowing why play lackluster now, knowing you have to pick up the pieces later on.
Let's December play its time to see where Lakers will be before half of the season.